@utomated Entertainment
HD Dichroic™ / ZC&R Blacklite™ / HD*VR 3-D™
---

Jeffrey W. Hillinger, General Manager of Automated Entertainment has over 20 years of professional experience in technical design and lighting for the entertainment industry.
In the late part of 1986 Hillinger found that there was a demand for the use of dichroic color filters in the Entertainment Lighting Industry and researched the product to take to market. This was the birth of the
HD DICHROIC™.
On November 18, 1987 Hillinger started Automated Entertainment, A turn key system design company and a manufacture of a very broad pallet of products for the entertainment industry.
Services include full production and design engineering. Specializing in lighting, audio, video, scenic, staging, power and rigging properties for touring and permanent themed projects. Touring systems are provided with technical support and operators.
Click Here For More Information on Jeffrey Hillinger

@utomated Entertainment products and special effects include:
HD Dichroic™ Color filters, and custom Optics,

"LDI 1995 Award Winning"
HD*VR™ MULTIMEDIA 3-D eyewear

sales@utomatedhd.com
( If you would like to view this page in 3-D please e-mail us a request for a pair of our viewers)

Super Black Bullet™, Black Stallion™,

HDZCR MV 250 S Miniblack™ ,
HDZCR 400 FMH Blackflood™ (Pictured) "High output Black light fixtures."


HD Fluorescent Paints and Dry Pigments™.

HD MRS 64/1000™ marine grade outdoor dichroic Lighting fixture,
HD MRS 64/1000™ marine grade outdoor Aquacolor color scroller,
HD 4427-5DR™ underwater dichroic par 64,
HD Band*iT ™ KableKeepers ™

AE gel-string , AE fluorescent color sleeve, AE multi cable reel, HD Cool par, AE snow machine, the AE U86, IBM compatible rack mount enclosure, and the Manifest Manager, a data base inventory software program for IBM compatible computers. AE Screen Saver Software. Up to 6 photos. Requires Windows 3.1 or Later, 256 color graphics, 3.5" 1.44MB Floppy.

Hillinger also serves as a R & D products specialist for major theme parks and resorts with a concentrated focus on outdoor theme environments, along with modified architectural fixture components, and fiber optic applications and control design.
Automated Entertainment has a 3000 sq. Ft. Sales and design office located in Burbank CA.. HD Dichroic thin film lab and office is located in Torrance CA.
Automated Entertainment also has a small design & demo office in Las Vegas NV. Which is sub let from a local electrical wholesaler.
All turn key project shop area is rented separately to suit the projects need and need of customers location. Personnel are hired on a as need basis.

Hillinger serves as an organizer moderator for Lighting Dimensions International annual workshops for optical thin film development , fx optics, the use of color and ultraviolet for the entertainment industry. Other LDI projects include bi-lingual workshops for Latin American trade and export.
Our workshops

THE BLACK MAGIC OF ULTRAVIOLET
Learn the secrets of using ultraviolet to create special lighting and scenic effects. From safety issues to ambient light levels, tackle the techniques for using black light and fluorescent expendables in applications for theatres, theme parks, clubs, film and television. See the latest in UV technology from various companies. Plus a hands-on opportunity to create your own environment and light it with black light. Play with kitchen science (using household products for special effects and make-up), raw pigments,fluorescent substrates. And work with applications and mixing techniques,creating depth by using specific colors. Then light your scenic creation with ultraviolet light for a little black magic.
Moderator: Jeffrey Hillinger, @utomated Entertainment.

Call for information (800) 880-6567

Recent Projects Completed By @utomated Entertainment: Position:Consultant / Vendor Client:Universal Studios Fl. Job: Retrofit Design & Vendor For Dichroic Applications. March 1993 Job Completion Jan. 1994.

Position: System Design & Consultant / Manufacturing Vendor Client: San Jose Sharks Job: Design And Fabrication Of Automated Shark Control , Internal Fx And Lighting System. Job Complete Oct 1993.

Position: Consultant / Vendor Client: Cirque Du Soleil Las Vegas Nv. / Christian Choi Job : UV Pass Blacklite Dichroic & Diffusion Retrofit For Automated Lighting Fixtures. Job Complete Oct 1993.

Position: System Design Consultant / Vendor Client: Ingram Supply Las Vegas Nv. Job: Excalibur Wizard Show , Jeff Johnson Show designer Design Of G.F.I. Dimming & Power Distribution for Wet Locations.Design and Fabrication Of Dichroic & Retrofit For Outdoor and Wet Location Lighting Fixtures.Job Completion Feb. 1994.

Position:Consultant System Design / Installation Vendor Client: Universal Studios Hollywood. Job: Fiber Optic Upgrade And Installation For E.T. Torque Tunnel. Job Completion April 1994.

Position: Consultant / Vendor Client : Splash Inc. Los Angeles / Las Vegas. Job: Splash Japan/Consultant To Ken Wilson For Specification Of Automated Lighting System. Job Complete and on going

Position: Lighting Design / Consultant Client: Las Vegas Hilton Job: Lighting And Special Fx. System For Las Vegas Hilton Lounge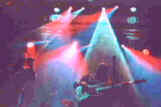 Consisting Of Fully Automated Vari*Lite System And Associated Fx. Completed Dec. 1994

Position: Consultant / Vendor Client:Battaglia. Job: Consultant to Ralph Raya for Ultraviolet FX Lighting and Dichroic Retrofits for Lotte Sky Plaza, Haunted Castle Dark Ride, Korea. Job Completion late "95"

Position: Consultant / Vendor Client: Walt Disney Imagineering, Glendale CA. Job: Consultant to in-house Designers, for the application of custom optics and retrofits for both indoor and outdoor wet location lighting fixtures. Jobs Complete and on going projects.

Position: Lighting Designer / Vendor Client: Pace / Nelson Group Las Vegas.Cypress Bayou Casino Charenton, La. Job: Lighting, Laser System DesignAnd Programming For Permanent Outdoor Show Display.Exterior Blacklight Fx. And Grounds Lighting Developed for wet environment.Design of Fiber Optic Array System for outdoor Installation.Design of Aquacolor color changing system for Tower Lighting to AD-ART Stockton, CA. Job Completion Late "95"

Client: Paramount Pictures

Star Trek VIII

Job: Consultant to Art Director: Herman Zimmerman & Director of Photography Matt Leonetti for Blacklite FX and UV Transparent Applications.

Other recent Blacklite ™ projects include: "The Nutty Professor" "96", Alice in Chains "Again" Video "96", "The Game" , "Batman 97" , and "Practical Magic".

Copyright. 1995/1996/ 1997/1998/1999/2000/2001/2002
/2003/2004/2005/2006/2007/2008/2009/2010

Automated Press All rights reserved.

P.O. Box 1079 Littlerock, Ca 91543